CROWN AND BRIDGE PROSTHESIS(ALL CERAMIC RESTORATIONS)
A crown is a type of dental restoration that fully cups over that portion of a tooth or dental implant that lies at and above the gum line.Once placed, it in effect becomes the tooth's new outer surface. In comparison, a dental filling just fills in or repairs a portion of a tooth.Dental crowns are permanently cemented into place. The tooth-crown unit that results is cared for and functions like any natural tooth. There are a several different reasons why a dental crown might be made for a tooth. -Repair and strengthen damaged teeth.-Improve the appearance of teeth (including color, shape and even apparent alignment).Dental crowns are sometimes referred to as "dental caps," "tooth caps," or "porcelain jackets."Crowns can be made out of:Porcelain (or other type of dental ceramic.),Metal alloy (a gold or other precious, semi-precious or non-precious alloy).A combination of dental ceramic and metal alloy (porcelain-fused-to-metal crowns).
Bridge
A bridge is used to span, or bridge, an edentulous area (space where teeth are missing), usually by connecting to fixed restorations on adjacent teeth. The teeth used to support the bridge are called abutments. A bridge may also refer to a single-piece multiple unit fixed partial denture (numerous single-unit crowns either cast or fused together). The part of the bridge which replaces a missing tooth and attaches to the abutments is known as a "pontic." For multiple missing teeth, some cases may have several pontics for additional support.

ALL CERAMIC RESTORATIONS
They are fabricated in a fashion where their entire thickness is porcelain (or some other type of dental ceramic).There's no better looking type of crown.Due to their life-like translucency, ceramic crowns can be the most cosmetically pleasing of all of the different types of dental crowns. And for this reason, they often make an excellent choice for restoring front teeth.Most commonly used all ceramic crowns are made of materials such as zirconia or lithium disilicate.
Conventional Metal Ceramic Bridge With Black Margins and Opaque Appearance
All Ceramic BridgeWith Translucent and Lifelike Appearance

SMILE DESIGNING, DIRECT / INDIRECT LAMINATES AND VENEERS
Cosmetic contouring is the simplest method to improve a patients smile.minor imperfections in their teeth such as small chips, minor unevenness, slight overlaps, shallowly pitted surfaces, or worn biting areas in their teeth. large, pointy canine teeth.
Contraindications: thin enamel, previous extensive restorations of the tooth or surrounding teeth, recently erupted teeth, teeth having gum structure that would be disturbed by the procedure, or teeth that are still shifting. Some contouring is not recommended if it will adversely affect the patient's bite. Minor imperfections in their teeth such as small chips, minor unevenness, slight overlaps, Laminate/veneer is a contact lens thin composite or ceramic which is bonded onto the facial surface of teeth so as to alter the shade shape or size of teeth mainly the front teeth.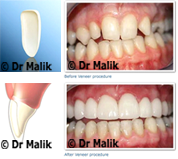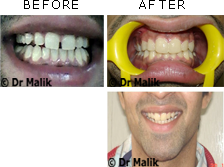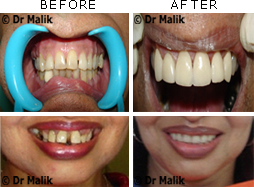 JEWELLERY FOR THE MOUTH(TOOTH TATOOS)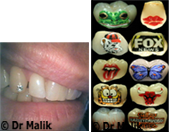 POWER BLEACHING(IN-OFFICE BLEACHING)
It is a cosmetic procedure undertaken to whiten/brighten the teeth. An individual may opt for dental bleaching in case the teeth have yellow/brown discolouration due to tea or coffee stains,tobacco stains,tetracyclin stains or due to injury or trauma.Look at the "whites" of your eyes: The most natural look for most people is when the color of your teeth match the sclera of your eyes. People whose teeth are more yellow than the whites of their eyes may end up with the most improved looking smile after using the whitening technique.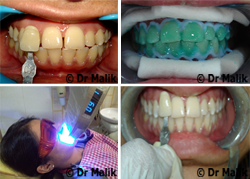 COMPLETE DENTURES(REMOVABLE DENTURES)
Dentures are removable appliances that can replace missing teeth and help restore your smile. If you've lost all of your natural teeth, whether from gum disease, tooth decay or injury, replacing missing teeth will benefit your appearance and your health. That's because dentures make it easier to eat and speak better than you could without teeth—things that people often take for granted.When you lose all of your teeth, facial muscles can sag, making you look older. Dentures can help fill out the appearance of your face and profile. They can be made to closely resemble your natural teeth so that your appearance does not change much. Dentures may even improve the look of your smile.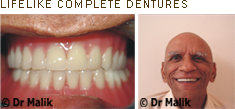 IMMEDIATE COMPLETE DENTURES:
An immediate complete denture is a restoration fabricated prior to the extraction of teeth which is placed in the patient's mouth immediately following the removal of the remaining teeth.
Advantages of immediate dentures:
The presence of natural teeth in the patient's mouth during fabrication of immediate dentures enables selection of artificial teeth of a corresponding size, shape and shade.It is used as a bandage for extractionwounds: it prevents bleeding, protects the woundagainst trauma, prevents the entrance of food and liquid into the wound, protects blood clots and accelerates healing. Patients ask for them mainly for aesthetic and psychological reason as at no given point is the patient without teeth.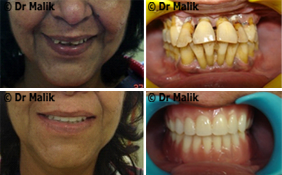 IMPLANT SUPPORTED COMPLETE DENTURES
Many people that wear complete upper and lower dentures are unhappy with them. Lower dentures never fit or feel like natural teeth. The good news is that dentures retained by dental implants can solve this problem. Implant supported dentures provide tremendous support and fixation so eating, speaking and smiling is more comfortable. Patients with loose lower dentures are great candidates. We recommend as little as two implant fixtures to hold the denture so that it no longer "floats" around causing soreness and difficulty with chewing.


REMOVABLE PROSTHESIS(CAST PARTIAL TITANIUM DENTURES–CUSTOM DESIGNED)
A removable partial denture can be made of acrylic (plastic like material) or a combination of acrylic with metallic framework. The metallic framework is usually made of cast metal. The metal used may be gold based or chrome cobalt alloy. These metallic dentures or cast partial dentures are much superior to the regular acrylic dentures.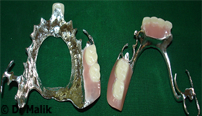 VALPLAST DENTURES OR FLEXIBLE DENTURES
Valplast is a type of flexible denture material that can be used to fabricate partial dentures. These materials unlike traditional plastic dentures are flexible and therefore makes the denture flexible. The advantages these dentures have over the hard plastic dentures include flexibility, lighter in weight and can be fabricated smaller in size.They are also more indiscreet as there are no unsightly metal clasps and they show through the colour of the underlying gums.

IMPLANTS AND IMPLANT SUPPORTED PROSTHESIS
Missing teeth can often be replaced by implants. Implants are made of a biocompatible precious material called titanium. They act like roots of teeth, after they have been surgically placed in the jaw bone, they are allowed to consolidate and heal within the bone. After the complete integration of the implant has occurred ranging from 4-6-9 months the superstructure or implant supported prosthesis may be attached to them. Implant supported prosthesis may be in the form of single crowns, bridges, dentures. Implants can be placed depending on the quality, quantity of bone and medical, dental history of the patient.The number of implants is determined based on individualized case studies, as a principle as many implants as possible should be used to distribute the stresses of chewing forces over maximum number of implants.
To plan the most suitable treatment certain information is helpful. For the work up of the treatment plan photographs, x-rays, study models of teeth and jaw are made.
In some circumstances a more comprehensive CT scan and specialized software may be used to give us greater detail of the shape of your jaws, ascertain the quantity, quality of bone thus helping us to determine the number of implants required and whether any additional bone augmentation procedures may be required. This data acquired is then used to fabricate a surgical template to precisely place the planned implants in the mouth.
IMPLANT SURGERY
It is a planned procedure under local anesthesia in most of the cases routinely unless general anesthesia is warranted.


FULL MOUTH REHABILITATION
A full-mouth restoration, also referred to as a full-mouth reconstruction, involves several cosmetic dentistry procedures designed to improve the health and appearance of your smile. Restorations are usually recommended for clients who have teeth that are damaged, worn down, or missing completely. Not only do damaged teeth negatively impact your smile appearance, they can also weaken your chewing ability and create bite imbalance. Depending on your degree of tooth damage, any of these dental treatments may be used to correct tooth condition: porcelain veneers,dental crowns, dental implants, tooth bonding, tooth-colored fillings, anddental bridges. If you have severely damaged teeth, or you are suffering from symptoms of TMD, such as headaches, jaw pain, or popping sounds in the jaw, you may be a good candidate for a full-mouth restoration. If your mouth has been affected by gum disease, or missing teeth are causing your bite to be off balance, you most likely can benefit from this procedure. Patients who have worn down their teeth with grinding or clenching habits may also be good candidates. At our clinic we follow a strict and scientific protocol using face bow transfers and long term temporaries to guage the final and most stable outcome.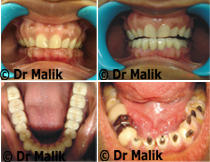 <Back to Top>